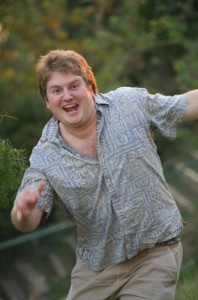 Craig Calkins
Malibu, California 90265
craig.calkins@gmail.com

PROJECTS

Built small mouse robot, based on a front loader, designed to find cheese and return to designated area. Personally designed the sensor system for robot mouse.

Wrote program to weave two photos into one panoramic with adjustment for color and aspect.

Built an array of microelectrocmechanical devices in a clean room setting

Headed a design team that developed a heat powered barbecue light.

Designed and built two generations of automobile-based computer.

Rebuilt a classic Italian sports car.

Designed and constructed furniture using wood and metal.

EDUCATION
Bachelor of Science, University of California, Santa Barbara
Electrical Engineering, December 2008
Emphases in Computer Vision, Multimedia, Microelectromechanical Systems

SKILLS
COMPUTER BASED SKILLS

Hardware familiarity:
Macintosh – OSX (10.6), OS9 and older, OSX Server (10.5, 10.3),

PC — Windows 95, 98, XP, 7, Linux (Fedora, Ubuntu), Unix,

Sony, Nikon, and Canon still and motion cameras (consumer and professional grade).
Application competencies:
MS Word

Excel

Powerpoint

Blender (3D rendering suite)

MATLAB

Mathmatica

X11

Dreamweaver 8

QuarkXpress

Adobe Photoshop

Adobe InDesign

Apple Final Cut Pro

Apple Final Cut Studio 2
Language Competency: C, C++, HTML, PHP, Basic, and Assembly.
MECHANICAL BASED SKILLS
Computer repair

Car repair

Debugging

Fabrication with wood, acrylic, and metal

Soldering

Welding (Arc)

Brassing
EXPERIENCE
Founder/President — AeroSwine LTD, LLC., Malibu, CA
May 2008 – Present
Provide small-scale engineering solutions in design and functional prototyping.

Engineered and produced a lighting solution for an Xbox 360 display console

Digital image capture and manipulation pertaining to client specifications.

Troubleshooting and repair of computer hardware and networks.
Production Assistant – And They're Off… LLC.
April 2010 – May 2010
In-house technical support for computer systems, network, and cameras.

Organized daily transportation needs.

Assisted in day to day filming operations.
Content Consultant/Editor – Campus Explorer, Inc., Santa Monica, CA
June 2009 – April 2010
Perform routine updates of campusexplorer.com backend database.

Research entries in campusexplorer.com database for validity.

Upload media to campusexplorer.com database.
Online (Multimedia) Editor — Daily Nexus, Santa Barbara, CA
November 2006 – December 2008
Developed and managed "InterNexus," the paper's online multimedia section and the Daily Nexus blog, increasing online readership by 10 percent.

With the DailyNexus.com design team, won first place for General Excellence in a Web site in 2007 from the California College Media Association.

Debugged issues and helped train employees to use the systems and applications.

Produced, filmed, and edited short segments for DailyNexus.com, then compressed for upload to the Web site.

Transferred daily press to DailyNexus.com

Maintained and upgraded computers in the network.
Photographer — Daily Nexus, Santa Barbara, CA
September 2006 – December 2008
Shot photos for News, Sports, Lifestyle sections, while collaborating with editors to adhere to content requirements and deadlines.

Daily usage of Adobe Photoshop for adjustment of digital imagery for print.